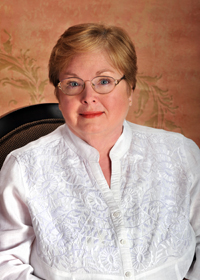 Ann Chaney hails from southeastern North Carolina.
As a young girl, she devoured every book in her elementary school and the local library. During the summer she turned twelve, she found Trixie Belden and Cherry Ames books. That discovery has led to an obsession with book series which led to her write Regency era romantic suspense novels. She says she waits impatiently for her favorite authors' next books to be available on Amazon. Pre-order is her call to arms.
The first of her family to attend college, she attended University of North Carolina at Greensboro majoring in European and Russian History. Ann was also the first woman in her family to serve in the US Army. Her younger sister, Connie, also served in the US Navy.
Ann's love for writing historical romance stems from her belief we all deserve a Happily Ever After. Her own HEA began with a simple glance across a room. There he was. The man she married almost 40 years ago.
Ann now spends her days and quite a few nights writing about cute meets set in a Regency London ballroom or maybe at a country house party. Compelling tales of men and women who confront the challenges of life head on. As with all romance, there's always trials for the lovers to overcome which makes "The End" all the more satisfying.